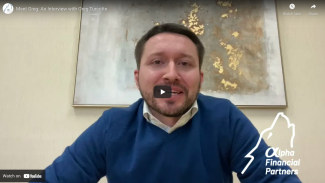 Greg enjoys the process of crafting personalized and comprehensive financial plans, ultimately helping his clients meet their lifelong goals and objectives. Prior to co-founding Alpha Financial Partners in 2020, Greg spent nearly five years at UBS Financial Services in Lexington, Kentucky. Before that he was an Advisor and Planning Specialist with two independent, boutique firms in Detroit, Michigan.

Over the past ten years, Greg has built his practice around trust and integrity, with his underlying goal to assure clients have the peace of mind and total transparency in their financial plans.

He earned his degree from Transylvania University in Lexington, KY and remains heavily involved with his alma mater today, previously serving as President of the Young Alumni Council. He is a huge sports enthusiast, with a specific passion for golf and thoroughbred racing. Greg lives in Lexington with his wife Amanda, their son Colleton, and their border collie, Tillie.  
Watch this video to learn more about Greg Turcotte!  He speaks about how he has grown over the past year, what motivates him every day, how he would describe himself in three words, and his greatest piece of advice for someone just starting out.  
Click this link to watch Greg's interview!