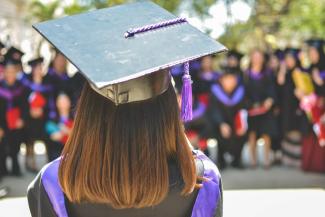 College Early Decision Application
Teenagers, especially affluent ones, are increasingly applying Early Decision and early action and this trend has escalated during the pandemic.
Here are some things that you need to know about Early Decision:
Early decision refers to the admission practice of allowing students to send in their applications before teenagers who use the regular admission process.  The deadline for ED applications can be November 15 or even earlier.  In contrast, the application deadline for regular admission can be in January or later.  When student apply Early Decision to a college, they promise that they will attend if the institution accepts them.  ED applications are considered binding.  Most colleges and universities do not offer an ED option, but it's a popular enrollment tool used by more sought-after private colleges and universities and some public institutions.  In the 1990s, the University of Pennsylvania was the first school to offer Early Decision applications.  Penn has too often been an also-ran for students aiming for Ivy League institutions, so it rolled out the ED option to become more competitive.
ED is chiefly a popular option for affluent students who desire an admission edge.  Students who apply early almost always enjoy greater admission odds at the vast majority of ED schools.  That's because institutions want to improve their admission yield by locking up a portion of their class early.  The admission advantage can be considerable.  For example, the acceptance percentage at the College of Wooster is 100% for ED applicants and 53% for regular decision applicants.  At Texas Christian University, the acceptance percentage is 51% for ED applicants and 28% for regular decision applicants.  
Applying Early Decision can be financially dangerous for students who need financial aid to afford the college.  That's because ED students must promise that they will attend the school regardless of what kind of package the school might provide.  Not surprisingly then, ED is a more realistic option for wealthy families who can or will cover the cost, even if they have to pay the sticker price.
While no university would admit this, students who apply ED could reduce their chances for merit scholarships.  It would only be natural for schools to give smaller merit awards or none at all to students who have committed to attending their institutions regardless of the price.
The pandemic, which ushered in test-optional policies for the vast majority of state and private colleges, was a catalyst for many more student to apply ED for the 2021-2022 school year.  Without having to submit test scores, ambitious students aimed for institutions that they normally wouldn't have a chance of getting into.  Early Decision applications for MIT, for instance, jumped 62%.  At Yale and the University of Virginia the increase was 38% while at Dartmouth and Rice, the ED applications rose 29%.  More competition often led to high rejection rates for the early birds at the most sought-after schools.  Brown, for example, admitted 22% of early applicants for the 2020-2021 school year and 16% for 2021-2022.  During the same period, Duke's acceptance rate for early applicants went from 21% to 17%. 
As more student treat applying to popular colleges as some sort of lottery and are applying to a crazy number of institutions, schools have worries about maintaining control of their admission process.  Consequently, a notable number of sought-after schools are using ED more heavily.  This trend has only grown since the pandemic struck. 
Students who apply Early Decision will be notified before other applicants of the school's admission decision.  Students will typically find out before the Christmas break whether they have been accepted or rejected.  The admission verdict on some ED applicants, however, can be deferred to the regular decision cycle.